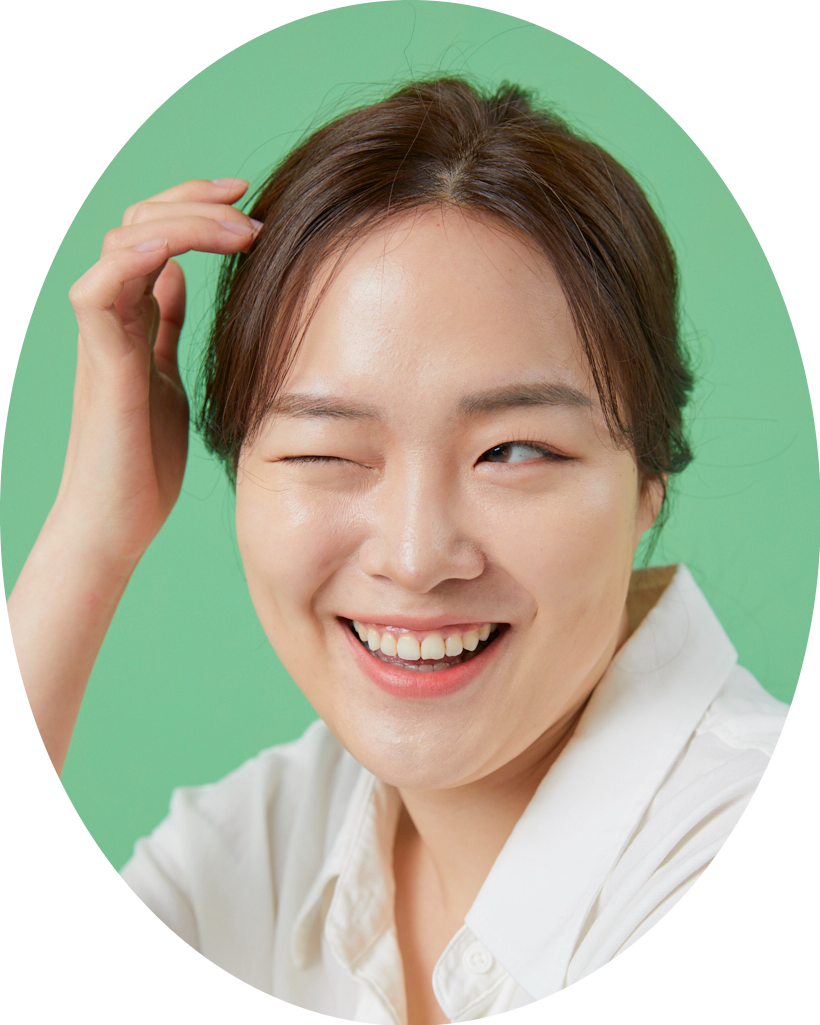 I have so many concerns it's not even funny haha! But for this box, I wanted to share products that worked great for me and ones I knew my subbies were keen on trying out! The common denominator of the products that are in this box is that they are all so calming and suitable for sensitive skin
---
Watch "Best Soothing Products for Sensitive & Acne-prone Skin!" by SooBeauty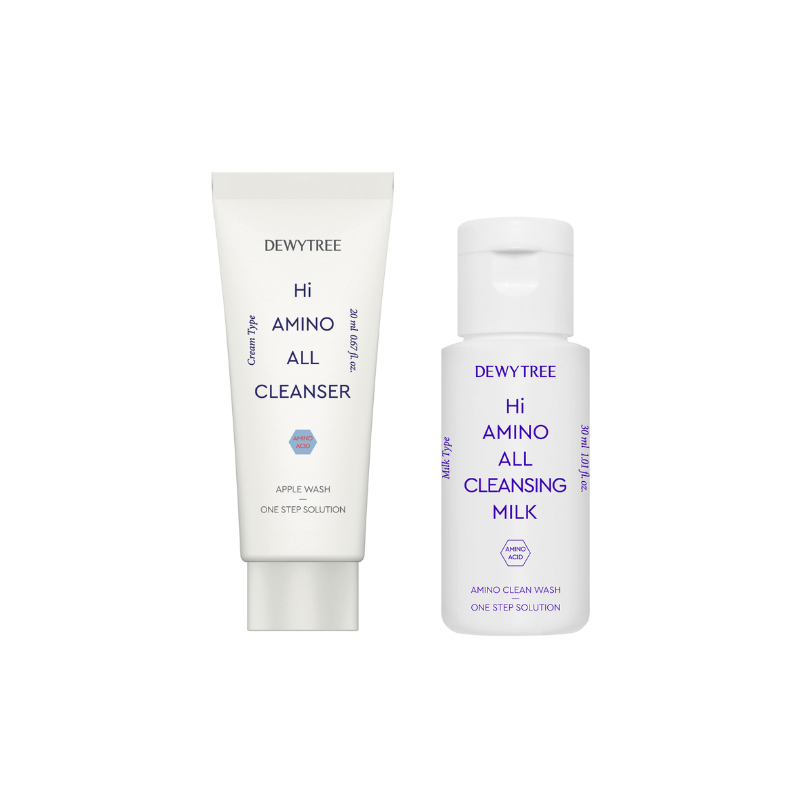 Dewytree Hi Amino All Cleanser Sample Kit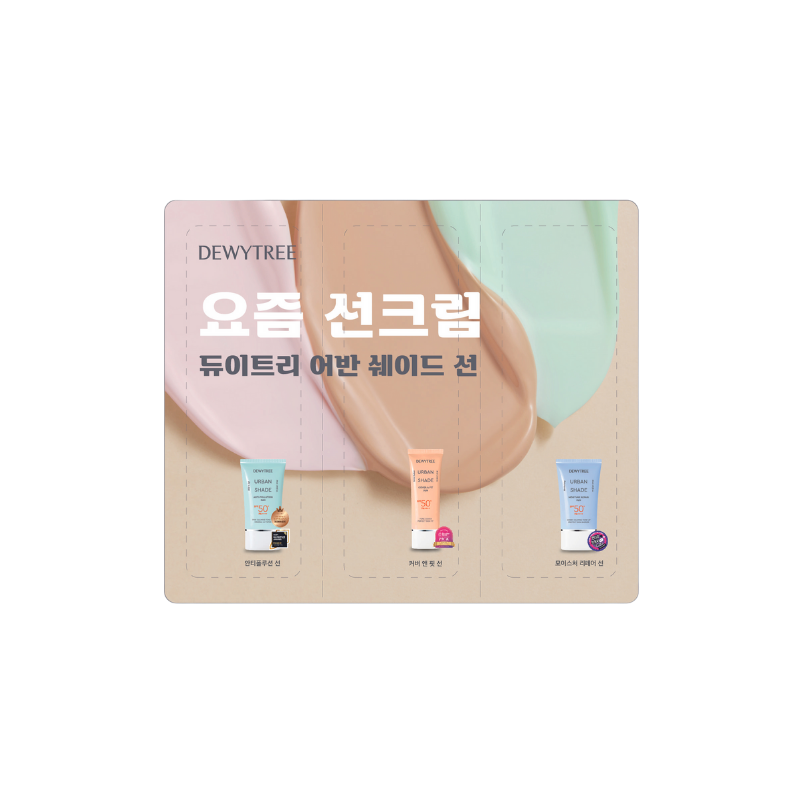 Dewytree Urban Shade Sun sachet
(Anti-pollution Sun, Moisture Repair Sun, Cover and Fit Sun 1ml sachet)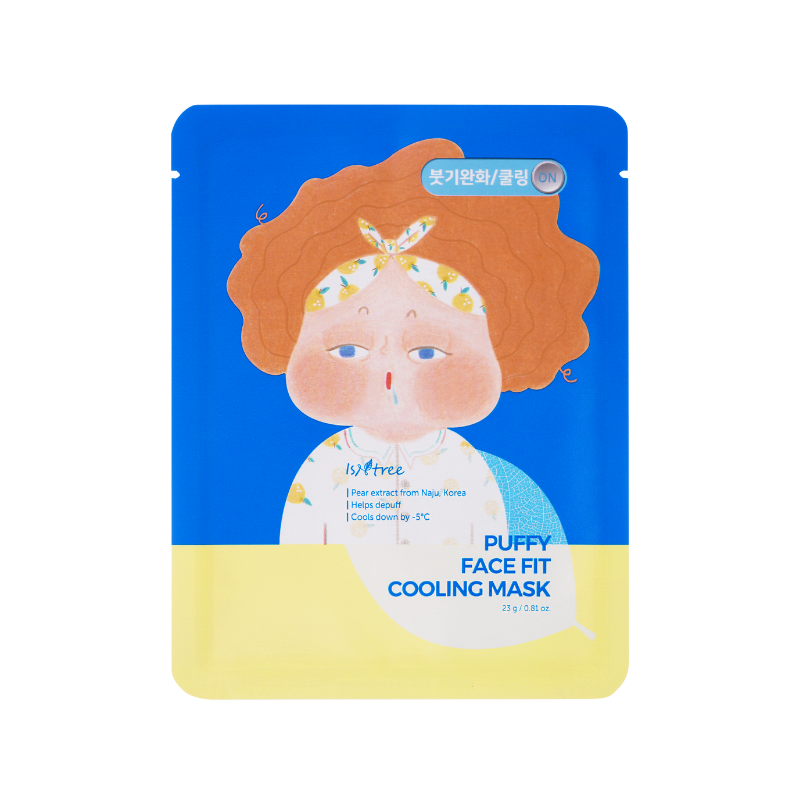 Isntree Puppy Face Fit Cooling Sheet Mask 1pc
We offer special deals exclusively for our beauty box customers!
You can include these with your box shipment (discounted up to 80% OFF!)
---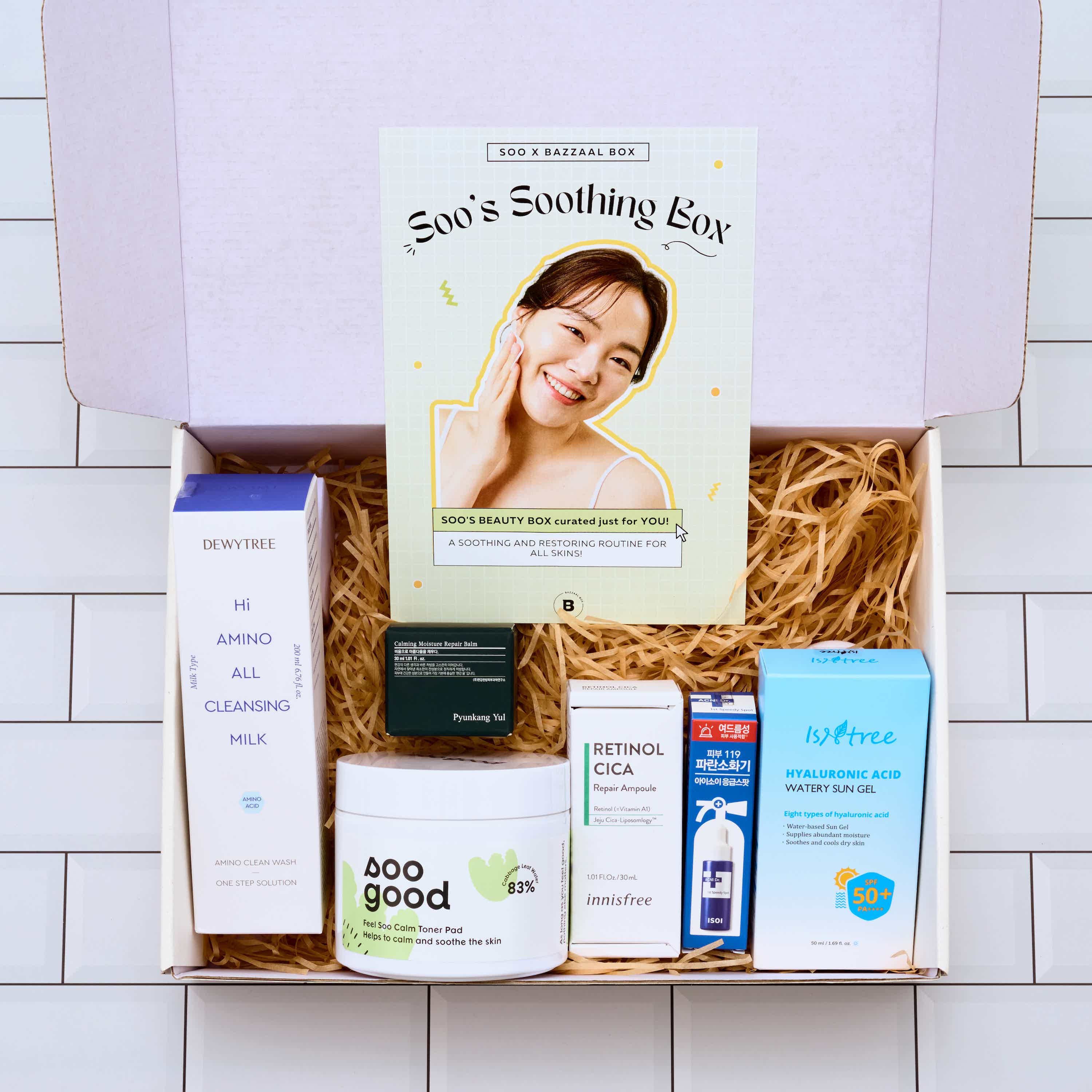 Hand-picked by Soo aka @_soobeauty
Over $185 in Value
LIMITED TIME DEAL
FREE GLOBAL SHIPPING


Product Details:
Soo Good 'Feel Soo Calm' Toner Pad (70 Pads)
Innisfree Retinol Cica Repair Ampoule 1.01 fl/oz
Isoi Acni Dr. 1st Speedy Spot 0.47 fl/oz
Pyunkang Yul Calming Moisture Repair Balm 1.01 fl/oz
Isntree Hyaluronic Acid Watery Sun Gel 1.69 fl/oz
Dewytree Hi Amino All Cleansing Milk 6.76 fl/oz

Gifts with Purchase:
Dewytree Hi Amino All Cleanser Sample Kit
Dewytree Urban Shade Sun sachet
Isntree Puppy Face Fit Cooling Sheet Mask 1pc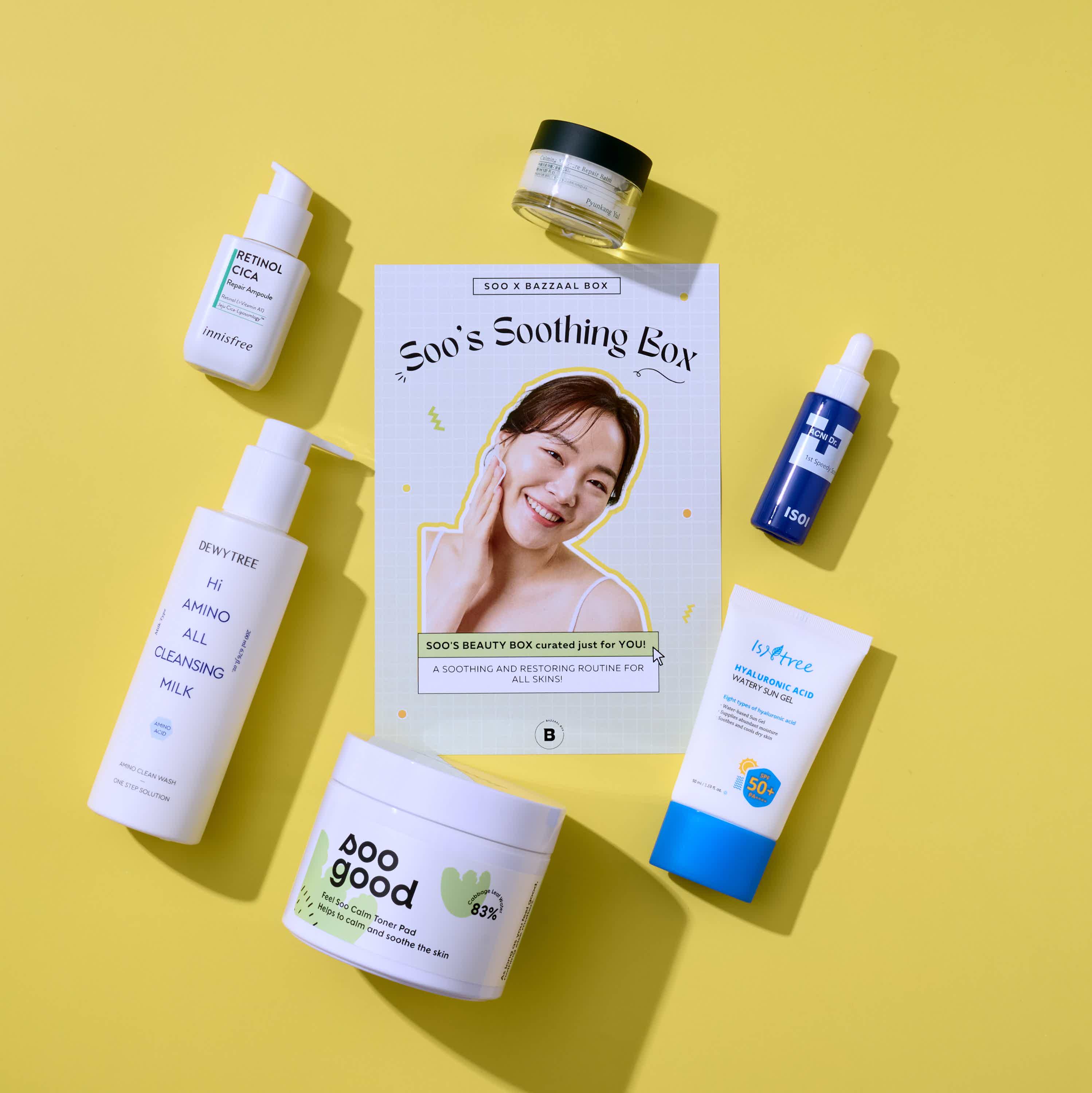 The 6 full-sized products included in the box have been hand-selected by Soo. They're her holy grails, so we hope you to love them too!

Who doesn't love free gifts? This box comes with 3 free goodies.

In this cute little leaflet, you will find the face of our creator, Soo, and key information about the products included.



OUR PROMISE


We care about the planet.
Our box is made of TREE-FREE paper and paperboard made of 100% sugarcane.
All products are wrapped with craft paper.



Frequently asked questions
What is the expiration date of the products in the box?
Every product in the box has been manufactured within the past year and has a minimum shelf life of 18 months. You will also be able to find the expiration date of each product on the packaging!
How long does shipping take?
All orders are shipped from South Korea through DHL Express will take 2-7 days to get to you depending on the country.
Do you ship to my country?
We ship to all countries serviced by DHL. Please check our 'shipping' page below to view countries we are not able to ship to. There might be delays/cancellations due to COVID-19 circumstances in some countries. If we inevitably need to cancel your order, we will contact you for a full refund.
Are customs fees included?
We are not responsible for any duty/import/taxes/customs charges incurred. Please contact info@bazzaal.com if you need additional help.
Customer Reviews
Write a Review
Ask a Question
Exactly what i would wished for!!!
this is the set of perfect skincare routine to this summer. the box has everything to calm to sooth to heal the skin and even "retinol" to person like me :) really need something to my anti-aging period. Thanks to Soo, my favorite blogger to introduce this unimagined deal set. I will be back to try other products here.(fast delivery)<3
06/30/2022
Michelle C.

United States
Amazing products! Thank you, Soo!!
All of the products in this box are amazing!! I especially am loving the dewy tree cleansing milk, isoi speedy spot, and innisfree retinol cica! These are all products that are very new to me, but they have been working great for my dry/acne skin, and I am loving them! Thank you Soo, especially for including the innisfree retinol cica serum! I have been using it for only two weeks now, and I have already seen an improvement to my skin condition! Less breakouts and less hyperpigmentation! This box is perfect for those with sensitive and acne-prone skin that are in need of calming yet powerful effects! I will definitely be restocking on these items when I run out!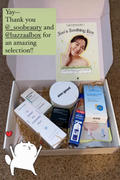 06/30/2022
Alicia K.

Canada
JUST... WOW!!!!
This is my first bazzaal box and when I heard Soo launched a box, I was immediately hooked. I really trust her product recommendations because they're all so calming and soothing and I have sensitive skin so having gentle but effective products is a MUST. I'm sooo happy I got this box!! Shipping was fast and great and didn't get hit with duties!! So far I've tried the innisfree retinol and soo's calming pads and omg... they're sooooo gooodd!!!! I'm super hyped to try everything else and I'm really debating if I should get another box of these hahahhaa